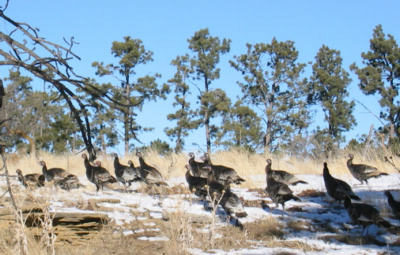 Merriam Turkey on the walk
Wild Turkey Hunts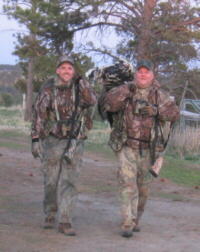 The turkey hunting on our ranch is excellent. The turkey population is very high and we have a lot of gobblers and see a huge amount of jakes. Though we don't guarantee it, we do expect a 100% harvest success, partially because we have always managed this in the past. Our lodge sets up in the Black Hills forest type country with a lot of timbered canyons to hunt. Our season coincides with the heavy strutting period of our turkeys and because we hunt private ground, you won't run into a lot of call shy birds.
Our turkey hunts are semi guided. We will show you the area and places where we saw birds roosting but when you do have to travel to other parts of the ranch, you will need to use your own vehicle for transportation.
We offer 3-day hunts, including boarding (four nights) and meals.

Rates for Turkey Hunting Packages 2021

| | |
| --- | --- |
| 3 days Gun or 3 days Archery Turkey (extra days $100/day) | $900 |
| Add Turkey to any big game hunt in Fall | $300 |
| Add Trout fishing (5 fish limit) | FREE |
| Non-hunting companion | $110/day |
All turkey hunts include accommodations, meals & limited guiding.
Deposit - 50% non-refundable
Arrival date will be evening before hunt
Departure date will be morning after the hunt.
Spring Turkey season 2021 will be from April.
Fall Turkey season 2021 will be from Nov 1 to Nov 30.
license fee is $86 plus an $12.50 conservation stamp. The spring turkey licenses can be picked up locally over the counter.
Turkey Pictures
Click on the small picture to see the bigger ones.
Click on the small picture to see the bigger ones.

Some feed backs
I had a great time turkey hunting. I got my bird on the third ridge, I walked my butt off for that bird, and that's what I like. I love the walking and the rolling hills. You will see me next year for sure. Thanks again, take care, Vic

Even though my hunt was foreshortened a day and a half by the rain and snow, I just wanted you to know that I enjoyed my stay. What a great setup you have, beautiful accommodations and great hunting within walking distance of the lodge.
If I could break away I would consider coming back over before the end of the season. I'm mulling it over.
Thanks again for your hospitality. [...]
Warm regards, Don

Thanks for letting us come out and hunt on your ranch. Tyler and I had a great time. [...]
Seeing all the turkeys and the strutting was great. We just don't have access to open land like that here or in Georgia. I enjoyed watching them go through their routines. [...]
Tyler and I are talking about coming out next year if you will have room. [...]
Again thanks for letting us come out. You have a great place out there!
Regards, Bob

We really want to thank you for a great time again this year. Tyler and I look forward to seeing you all and the country again.
The trip to South Dakota went well. [...] We did get one turkey. We didn't see as many turkeys as at your place. [...]
We both agreed that we liked your place and the country better, but it was nice to see other country.
[...] Hope things go well. We'll be in touch. Take care, Bob

Thanks for the opportunity to hunt turkeys on your great ranch. This was my second year with Bob M.'s group and I will keep coming back. Your accommodations are great, the land is terrific and beautiful, and you have a lot of good turkeys. Its a terrific escape from the hustle and bustle of the east coast. Hope to see you next year, same time, and get my third merriam turkey. Jan, our cook, was terrific and took good care of us and put up with our BS. Thanks again,
Phil

Great time. We got two Turkeys and I could have killed a Jake but will save until next year. [...]
Tell "Hiker" the place looked and felt a lot more comfortable. We appreciated her personal tour. [...]
John